S&Co Workshops and Retreats
MAKE YOUR WORK BETTER WHILE HAVING FUN!

THE S&CO 'SCRIPTWRITING TOOLKIT' COURSE
Write a play or screenplay in six months!
FEBRUARY > JULY 2022. MONTHLY - 7-10PM - ONLINE
Price for six 3-hour sessions on Tuesday evenings: £240
'I needed to find a writers group to help me with motivation, so this was one of the reasons I joined the course. However, I have also really benefited from the tutorials. I did a playwriting MA back in 2005/06 and have either forgotten a lot or the course wasn't up to much, as I have learnt a huge amount in these sessions! I am very happy with my group and they have provided me with excellent feedback. Joining the course is the best decision I've made this year.' J. Howard, Playwright.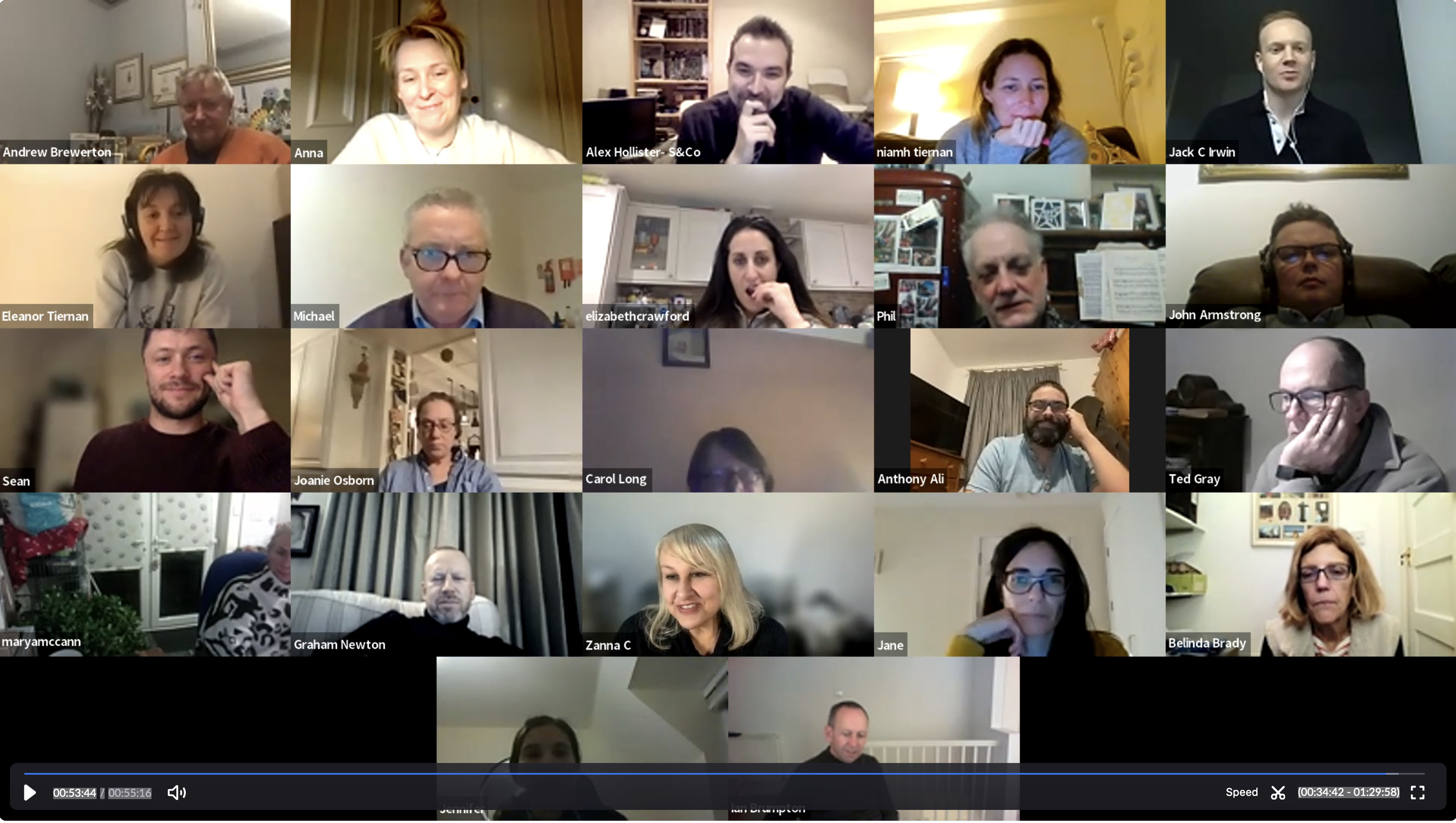 Want to write a pilot or a feature? A one-act audio or stage play, or a full-length theatrical piece? Perhaps you'd like to enter competitions like our Scriptwriters & Co International Festival, but don't feel ready to submit. Maybe you need a spec script to send to potential agents or producers.
It's tough without support, but save yourself the price of a Scriptwriting or Screenwriting MA. Whether you're an experienced scriptwriter or writing your first piece, our tutor-led Scriptwriting Toolkit course is for you. We'll help you to write an entire script from scratch - and at a fraction of the cost.
Each monthly event will start with tuition and a whole-group discussion. S&Co leaders Zanna Cardash and Alex Hollister will ensure you learn craft - and develop a professional toolkit of skills - as your play or screenplay takes shape. No matter if it's only in your head or you've already started writing. We'll guide you to make it the best it can be, via a mixture of tutorials and group workshops. There are 18 hours of tutoring and workshops, plus homework.
PLEASE NOTE: We reserve the right to make tweaks to improve the published programme or tutorials in response to post-Toolkit feedback from current students.
You can't drop in and out. It's a six-month course, at the end of which (subject to your commitment and attendance) you should have written a complete piece. You're also likely to have formed a cohesive bond with your group's other members, which means you can continue to support one another, long after the course is finished.
We'll ask you to submit a sample scene in January, before we start, but it's not competitive. This simply helps us to assess your current skills and place you with people at a similar stage of their scriptwriting journey. Additionally, we'll want to know which type of script you'll write: stage/audio play or screenplay. This ensures you'll find yourself in a group where everyone's writing a script of a similar length and for the same medium, so you'll all gain maximum personal benefit. These are:
Feature-length screenplay (60-110 pages)
Pilot, TV or shorter film script (20-60 pages)
Full-length stage play (60-110 pages)
One-act audio or shorter stage play (20-60 pages)
Each month, there will be manageable deadlines to meet. On the Friday before each session, you'll send your work to other people in your group to read and prepare notes, while you'll read theirs and make notes for them. This means that, in the week before each session, you must factor in time to read and make notes on scripts submitted by your group (generally 3-4 writers per long-form group; 3-6 writers for those writing shorter pieces, to ensure you're not overloaded).
For the benefit of all 'Scriptwriting Toolkit' students, we will not accept (and will refund) any writers whose sample scripts show they're not ready to do the course. We also reserve the right to remove any student who fails to attend monthly workshops on more than two occasions, or to provide notes for others in their group in a timely fashion, and without a suitable explanation, with no refund offered.
Trouble-shooter one-to-ones! There's an option, at any stage during the six months, for a private tutorial with Zanna or Alex (£20 for 15 minutes or £30 for 30 minutes) to discuss a specific scene or issue with your script.
COURSE DETAILS
MONTH ONE – TUESDAY 8 FEBRUARY 2022: PLANNING: BEAT SHEETS, OUTLINES, BIBLES, LOGLINES
TUTORIAL: First, we'll all introduce ourselves and students will say what they intend to write. Then we'll discuss the best way to plan storylines and characters via beat sheets, outlines and bibles, and how (and when) to create strong loglines. WORKSHOP: You'll meet the people with whom you'll share scripts over the next few months. Come equipped with your idea, ready to discuss the basic premise and characters. HOMEWORK: Write a provisional logline and beat sheet/scene plan for your script and send it to your group by 10pm on Friday 4 March. Read and make notes on loglines/beat sheets/scene plans submitted by fellow group members, to be discussed in the next session, then emailed to writers the day after, on Wednesday 9 March.
MONTH TWO – TUESDAY 8 MARCH 2022: STRUCTURE, SEQUENCING, STORY

TUTORIAL: Did Aristotle get it right? One act, three acts or five? Creating the perfect plot and story arc for your genre. Is your idea more suited to a linear or non-linear format? Creating an effective narrative structure for audio, stage or screen. Is it really wrong to use flashbacks? Is conflict essential? The hero's journey: constructing a script with great turning points. After tuition you'll return to your group. WORKSHOP: Each group member gives notes on other people's beat sheets and plans. What you like, what works, and what's unclear or illogical. HOMEWORK: Write 30% of your script and send the draft to your group by 10pm on Friday 1 April. Read and make notes on scripts sent to you by fellow group members, to be discussed in April's session, then emailed to writers the day after, on Wednesday 6 April.

MONTH THREE – TUESDAY 5 APRIL 2022: CHARACTER, DIALOGUE AND VOICE
TUTORIAL: How to build three-dimensional characters. The critical differences between writing dialogue for screen, stage and audio. Creating emotional depth, so characters inspire empathy, ensuring the audience longs for your protagonist to succeed against all odds, or for their nemesis to be vanquished - often despite deep or unlikeable character flaws. The importance of backstories. Why characters should have external and internal wants and needs. Writing realistic dialogue that drives the story. Showing your 'voice'. WORKSHOP: Each group goes through notes on other people's scripts. What's good, what needs improvement. HOMEWORK: Write the second 30% of your script. Send the draft to your group by 10pm on Friday 29 April. Read and make notes on scripts sent to you by fellow group members, to be discussed in May's session, and emailed to writers the day after, on Wednesday 4 May.
MONTH FOUR – TUESDAY 3 MAY 2022: FORMATTING, PROOFREADING AND REVISIONS
TUTORIAL: Basic intro to formatting your screenplay or play. Vomit drafts - yes or no? Dealing with writers' block. The importance of proofreading before sending out your script. How to incorporate revisions effectively. How to edit, tweak, rewrite or replace a poor scene from scratch. Thinking in words or images. WORKSHOP: Each group goes through notes on other people's scripts. What's better, what still needs more thought. Are there still plotholes or characters that need to be refined? HOMEWORK: Write more of the first draft of your script - around 80% is good, but finish it if you can! - and send it to your group by 10pm on Friday 3 June. Read and make notes on work submitted by your group members, to be discussed in June's session, and emailed to writers the day after, on Wednesday 8 June.
MONTH FIVE – TUESDAY 7 JUNE 2022: SCRIPT ANALYSIS

TUTORIAL: We'll split into two groups: Stage or Screen (audio writers may choose either). Zanna (stage) and Alex (screen) will each take a scene (or scenes) from a well-known script and deep-dive into what works (or doesn't) to help you recognise good techniques and avoid pitfalls. This will encompass everything we've covered to date: plot, structure, characters, dialogue and format. WORKSHOP: Your scripts should now be in far better shape. Each group goes through their notes on other people's work, now focusing on the finer details, especially scenes that may need to be cut or even deleted. You'll also designate a writer from your group to have a short excerpt from their script read in next month's session. HOMEWORK: Groups will be disbanded, and you'll now be matched with a writer from a different one. This assures fresh eyes on your work, and means you will only have to make notes on one script, so you can give it your full attention and provide (and look forward to receiving) the best possible notes. Submit a complete first draft of your script to your new partner by Sunday 10 July, and exchange notes with them no later than Wednesday 13 July, the day after Toolkit 6. Note: These will not be discussed at the final session, but will be invaluable when you polish your scripts, ready for sending to comps or producers.

MONTH SIX – TUESDAY 12 JULY 2022: NEXT STEPS: CONTESTS, PITCHES, PRODUCERS/AGENTS

TUTORIAL: Next steps in the business - one-page pitch docs, whether to enter comps, how to pitch live and find an agent or producer, followed by an open forum session where we'll be led by students' questions. WORKSHOP: The nominated writer from each group will have a scene from their script read aloud and discussed by us and other students. HOMEWORK: The final countdown and test! On Sunday 17 July you'll each swap polished drafts with another designated writer who's never seen your script before! They'll prepare notes for you and you'll reciprocate. Since the course will now be over, you can discuss the deadline for note-giving between you. After that, you're all encouraged to keep in touch!

THAT'S IT! Your Toolkit course and polished script are complete!
THIS TOOLKIT COURSE HAS STARTED - NEXT ONE IN SEPTEMBER!

S&CO WORKSHOP: CREATING CREDIBLE CHARACTERS
NEXT DATE TO BE ANNOUNCED
Make your characters fly off the page!
Zanna Cardash leads this online workshop, which will help you build three-dimensional characters that are credible - and watchable. It's not just a matter of convincing dialogue. You also need to build empathy, so the audience longs for your protagonist to succeed against all odds, or for his or her nemesis to be vanquished - even if they may have deep and unlikeable character flaws!
Additionally, you have to consider characters' external and internal wants and needs (yes, they're different!). And if all that's not enough, you have to ensure these people are not just convincing, but engaging enough to hold an audience's attention. This means your dialogue must be realistic, with a different voice for each person, and defined backstories that the viewer might never see, but which inform their decisions and actions.
Zanna will show you simple techniques that will ensure you know your characters so well that you can predict exactly how they'll respond to any situation that's thrown at them by others - and you! You'll also learn how to give them emotional depth, so they can develop and change during their journey.
You won't just learn the essentials that will make your characters fly off the page, but will enjoy carefully designed writing exercises that will help you develop your scriptwriting skills. This workshop will also cover the essential differences between writing for stage or screen.
S&CO ZOOM PERFORMANCES
This is an incredible experience for any writer, and the best way to find out exactly what works and - more importantly - what doesn't.
Subject to cast availabilty, we can organise a Zoom performance of your work by S&Co Actors - we now have around 30 - which we can record for you to send to whoever you like. You don't even have to attend (though most people do)!
Please email to discuss your needs, since prices vary depending on the number of actors required and the length of the script. Combine this with Script Consultancy and you'll be on your way to a far better script - guaranteed!
S&CO WRITING RETREATS
Next date to be announced when it feels safe!
Our Writing Retreats aren't just for playwrights and screenwriters. All writers - novelists, poets, you name it - are welcome to book, because the day isn't about 'learning'. It's a chance for you to get your head down and... well, write.
Put to one side that your kitchen's a health hazard, there's a Netflix series you need to binge-watch, the kids are fighting again or you really need to repoint the brickwork before creating the next scene, chapter or verse. This is a chance to get your head down without distractions. The biggest domestic dilemma you'll face: which pastry to choose on arrival.
There's no formal tuition, though writer and copy editor Zanna Cardash will be on hand to read and comment on scenes or passages, assist with blockers and offer advice. All you need to bring is your notepad and pen or a laptop - and some great ideas. We provide: desk space at a large table - oven-baked breakfast pastries - unlimited tea and coffee - a scrummy platter lunch - a beautiful and conducive environment - and, not least, the chance to form supportive friendships with other writers. Oh, and a few little treats might be thrown in during the inevitable afternoon lull. (Nobody said chocolate, obviously.)
Imagine a day's productive work in the luxury of the splendid, historic Elder Rooms in Bath, and the company of like-minded writers. Bliss!
Please sign up for our newsletter to be first to find out when new dates are announced. Questions? Special dietary requirements? Advice on where to stay? No problem. Just email.
Writing Retreat: £50.00 to include a breakfast pastry, unlimited hot drinks, a shared 'sandwiches and chips' lunch - and oodles of creative camaraderie!