Scratch Nights and Events
GREAT ENTERTAINMENT - AT YOUR PLACE!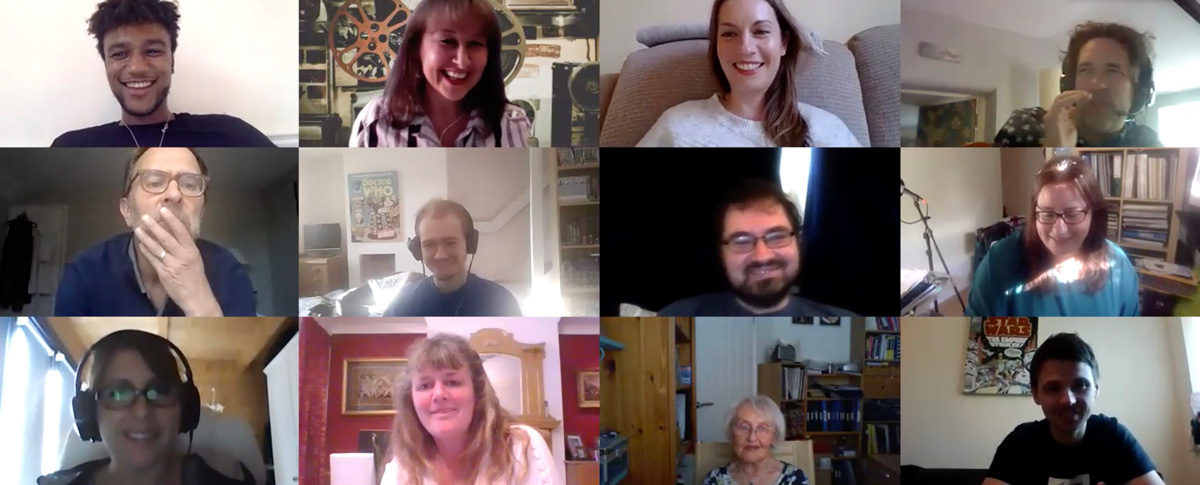 SCRIPTWRITERS & CO INTERNATIONAL FESTIVAL
A competition for playwrights and screenwriters with route-to production prizes, and a Festival on 10 April 2022 in Bath, UK.
S&CO CHATS

JOEY TUCCIO - 26 OCTOBER 2021!
Up for an hour-long 'pitch prep' discussion and Q&A with an expert from LA? Our online interviews with live Q&As are free to attend, with links sent in our newsletter.
And we're thrilled to announce that Roadmap Writers' CEO, the fabulous Joey Tuccio, will join Zanna Cardash for an S&Co Chat on Zoom, on Tuesday 26 October at 7pm (UK time).
If you want to shop your script, you won't want to miss this session. Zanna and Joey will discuss delivery, clarity, structure, characterisation, pacing, the opening of your pitch and how best to end. Brave volunteers will also be able practice their pitch for live feedback!
You'll be in excellent hands. Roadmap has helped more than 190 writers get signed and more than 80 writers get optioned, staffed and produced.
Sign up for our newsletter to get the link and learn Hollywood secrets. Can't wait!
S&CO SCRATCH NIGHT: 7PM (BST) TUESDAY 21 SEPTEMBER
"The whole thing is a miracle of technology and collaborative talent. I really enjoy the range of work, so many twists and turns, such great story-telling and performances. Thanks for being so friendly and welcoming to newbies like myself and for all the really helpful and constructive comments. This monthly event is one great thing that has come about as a result of lockdown." - Nilgin Yusuf, Scriptwriter/Journalist
SEPTEMBER'S THEME WAS: 'TOO LATE'
The deadline was Friday 17 September at 12 noon (BST)! We were looking for 6-10 pages - audio, stage or screenplay. How you interpret all our prompts is entirely up to you, though there must be a clear link.
The prize? A coveted Scriptwriters & Co laurel, natch, and the pleasure of hearing your scripts read aloud by our auditioned S&Co Actors at the online event, then workshopped by our judges and supportive audience members - usually within one to three weeks of entering!
We welcome entries from playwrights and screenwriters anywhere in the world. Subscribers get early notice of all events, and you must sign up to our newsletter to enter or attend. It's free to enter but contributions are appreciated, to help keep us running the competition. PLEASE read the terms below. Sadly, every month we have to disqualify scripts that don't comply.
We acknowledge receipt of all entries within 24 hours, so if you don't receive a confirmation email, we haven't received your submission. Winners are also informed by email, and will then be announced on social media and below. We don't send out rejections - who likes those?
THEMES, RULES & ELIGIBILITY
Your script must be:
in English
relevant to the theme
formatted to industry standards, or so it's an easy read for us and our actors - the BBC offers some handy downloads
devoid of watermarks (professionals don't do this and - trust us! - we have zero interest in stealing ideas or passing your work off as ours)
appropriate for the stated page count (which doesn't include the cover or, in plays, cast details), with no more than eight speaking characters
in PDF format, with its title and your name in the file name AND on the title page, such as: 'A Wondrous Work by Al Anon'.
Also make sure you've:
subscribed to our mailing list
proof-read your work so it's free of spelling errors and typos
stated, on the title page, whether your piece is for stage, TV, film, radio or other medium, and if it's an excerpt


not

submitted more than one piece

not

included a synopsis or any notes - readers will not see your email and

only

receive the script.
Terms: You must subscribe to our newletter to be eligible to enter and/or attend, since this is where we provide key information and the Zoom link to the event. Maximum of one entry per person each month, and writers may win up to four times in one year. Monologues and excerpts are accepted. Writers must be over 18. Copyright of all work submitted remains the writer's. Entries received after the deadline or with inappropriate page counts will not be read. Failure to follow the rules may result in disqualification. By submitting your work you agree to be present at the appropriate scratch night on Zoom if your script is chosen. Entry to each online event is limited to the first 100 people who join us. By entering or attending S&Co events you acknowledge that we reserve the right to publish images of attendees, or feedback received, in or on our website, emails or publicity. Successful scriptwriters will be informed by the prescribed date each month and must respond within 24 hours, or their slot may be offered to someone else. We do not send rejection emails, so if you don't hear from us by that date, your submission was not successful. Good luck!
ABOUT S&CO SCRATCH NIGHTS
Listening to your work is the best way of finding out what sings in tune and what's gone flat. Whether online or live, S&Co's Scratch Nights allow you to hear your script or screenplay performed, script-in-hand, by our multi-talented S&Co Actors, then workshopped by supportive audience members.
Sometimes we set a theme; sometimes we ask for something wackier, to stir things up a little. Either way, if yours gets the green light we'll let you know in advance, and invite you to introduce it at the event. After the reading you can look forward to rapturous applause (of course!) followed by constructive, moderated debate in a safe environment. We're all on your side.
Each of us benefits from exposure to great new writing, and by formulating and listening to comments, critiques and suggestions. It helps us improve our own work. Writers and actors alike should treat it like a pitch or audition, because you never know who might be listening. You could get commissioned or cast.
Award-winning scriptwriters Zanna Cardash and Alex Hollister - repped by Zero Gravity Management in LA - assess submissions very carefully, assisted by readers Helen Tompson and Ella Crowsley. Please don't be disheartened if yours isn't chosen, or leap to the conclusion that it isn't engaging or well-written. Decisions won't just be based on talent, but to offer the audience variety. Even if you don't enter, our newletters tell you themes and event dates in advance, so please sign up!
The success of our online events means Scriptwriters & Co will continue to host S&Co Scratch Nights and readings online after Covid-19 restrictions are lifted, making location no bar to joining us. When the pandemic is over, social events are likely to take place in Bath, in the south west of the UK.
MATT NATION - ROSIE CLOSS - AL BRUNKER - ZANNA CARDASH - DAVID COLE - REBECCA PARR - ALEX STABLER - JACQS GRAHAM - MICHAEL BRAND - JOHANNA THEA - DAVID BECK - LILY MARYON - RYAN SETT - LAURA CORRADI - RUPI LAL - RHIANNON SKERRITT - PHILIP SHERLOCK - CANDICE CLARKE - RHYS OWEN - ELIZABETH HAMMOND - HOLLY BODIMEADE - PAUL UHLER

SEPTEMBER'S PROGRAMME AND WINNERS
EVERY SEVEN MINUTES by KEN PREUSS
Worker (Rebecca), Newbie (Alex)
ADs read by Holly.

FAIRYTALE 911 by TONY ALI
Jimmy (David), Fireman (Matt), Shelley (Holly), Passer-by (Lily), Anna (Elizabeth), David (Rupi)
ADs read by Paul.

RONNIE AND HIS CHICKEN by SEAN STEINBERG
Ronnie (Paul), Alan (Alex), Lifeguard (Rupi)
ADs read by Matt.

STAR by TONY HAYNES
Emily (Lily), Westlake (Matt), Faye (Holly), Sherilyn (Johanna)
ADs read by Rebecca.

NAMESAKE by AGATHA CHAPMAN-POOLE
Monica Imiria (Elizabeth), William Shakespeare (Rupi), Hercule Poirot (David), Peter Rabbit (Matt), Madonna (Laura), Builder (Rebecca), Fred West (Alex), Bus Tannoy (Candice), Boris Johnson (Paul)
ADs read by Johanna.
BREAK - FIVE MINUTES

ENJOY EVERY SANDWICH by STEPHEN DOWNS
Alden (Rupi), Death (Matt), Neighbours (Candice, David)
ADs read by Elizabeth.

CONFIRM HUMANITY by OMNEYA OKASHA
Sophie (Holly), Operating System (Laura), Till Operator (Candice), Cute Guy (David)
ADs read by Johanna.

THERE'S ALWAYS TIME FOR CROKINOLE by CARL PLEASANT
Anna (Rebecca), Peter (Alex)
ADs read by Lily.

GRAVEN by MICHAEL CLIFTON
Maisie (Elizabeth), Graven (Matt), Kid One and Kid (Johanna), Kid Two (Lily)
ADs read by Zanna.
SPECIAL HONOURABLE MENTIONS
(which will not be read on the night)
PUBLIC DEATHS - Rex McGregor
THE DANA DILEMMA - Mark Anthony Ramitt
THE MAN WHO GHOSTED, ME - Farai Brandon Mbudaya
WOMAN LEFT BEHIND - Vicki Cargill and Adam Cargill


HONOURABLE MENTIONS
(which will not be read on the night)
FATHER AND SON - Joshua Wright
STENCH - Jenny Ayres
THE AUDITION - Joyce Newman Scott
THE UNFORGETTABLE VORTEX OF TIME - Meghana Krishnamurthy
TO THE END OF TIME - Maggie Gallant
THE SCRIPTWRITERS & CO INTERNATIONAL FESTIVAL
We welcome script entries from shorts to full-length features and plays , from screenwriters and playwrights, and offer trophies as well as route-to-production prizes.
The event will take place in Bath, UK, on 10 April 2022. Click the pic for more details.